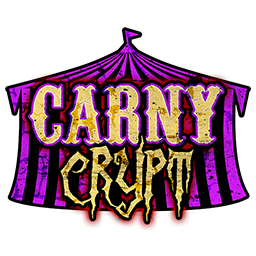 In the mid-20th Century, the Blauer Bros. Carnival made annual stops in Youngsville. Notorious for dangerously decrepit rides and slum-like conditions for performers, no one was surprised by the rumors that it was haunted. After a fire tore through it in October of 1961 the Carnival closed for good because the Blauer Bros. disappeared into the ether. To this day, no one has heard from or seen them again.
Their makeup trailer was the only structure to survive the blaze, but it was badly damaged and was dumped in the Louisburg Railyard, where it sat for over 40 years. In 2010, during a rail yard clean out, the trailer was earmarked for the landfill; but Panic Point rescued and restored it. For the first couple of years it served as the park makeup trailer but after several… incidents our artists and actors refused to step foot inside. In 2013 it was converted to a Haunted Attraction known as The Carny Crypt.
The incidents kept happening. So, in 2021 when the trailer was again in need of repairs, we gathered every old photo we could find, and we restored it as best we could to its original form as a Carny Makeup Trailer.
In 2021 we played an old tape recording we found that was made the night of the fire. In 2022 we called in Atlas Paranormal to make contact with the specters who allegedly inhabited the trailer. This year we've put together an audio tour of the history of the trailer for your enjoyment. So step into the trailer, take a seat, and travel back 50 years. But don't worry, its probably not haunted anymore.
This Attraction is not included in General Admission, and requires a separate ticket. The Carny Crypt Experience is about 4 minutes long. Tickets are $5 – purchase online or inside the venue.